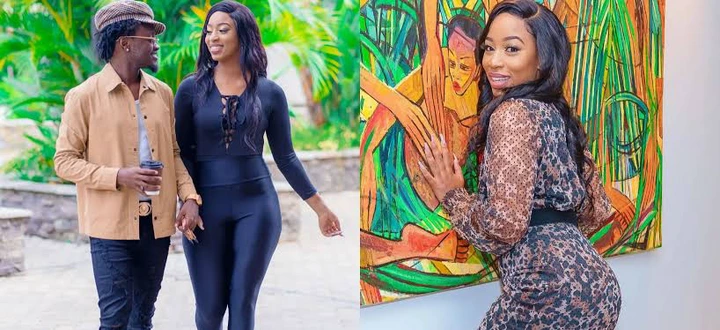 Bahati is married to Diana Marua, who is 31 years old. Bahati is a well-known Kenyan gospel singer with a large following in the country and a lot of successful songs to his credit. Bahati and Diana Marua married in a private ceremony at Diana Marua's parents' compound, which was only open to guests who had been invited.
Her YouTube Account Has Been Deleted
Diana Marua had only been planning to release her debut song for 2022 for less than 24 hours when her YouTube account was stolen and destroyed. She had threatened to give some Kenyan singers a run for their money.
Mrs Bahati, dissatisfied, turned to Instagram to report the shocking news that has her counting her losses. The hacked channel had amassed over 600,000 users since joining the streaming platform on August 19, 2019. According to Marua, the hackers began by changing the name of her channel before removing it from the streaming site.
"I've always lived in peace with everyone and stayed on my lane; I don't see why someone would do this to me! You break into my YouTube account, change the name, and then delete it." She penned an essay.The singer assured her fans, however, that her management is handling the problem and that she is hopeful that things will improve.
"Fam, we'll be back shortly. Team Diana, keep strong. We put our faith in God and praise Him for everything. My managers and Ngomma Vas have begun contacting the YouTube crew to have this resolved!" Marua said in the Instagram video. "Video unavailable. The YouTube account linked with this video has been canceled, so this video is no longer available." Reads the message from the first check that I performed.
Marua's YouTube channel was hacked when she was one of Kenya's most influential YouTubers. Every time she posts something to her channel, she adds up the numbers. She was in a joyful mood in October of last year after breaking the 500K subscriber mark on YouTube.
Diana expressed her displeasure with the incident on Instagram, saying she had done nothing to deserve the 'cruel' behavior.
A number of followers and fellow celebrities flooded the comment area with supportive words, including Akothee, who cautioned people against stealing other people's hard work.
"Eish isn't a pleasant sensation. These are strange streets. Aaaaah! This world isn't always a fair place. People should know how much it costs to develop a brand." Akothee wrote.
However, other web users believe Diana is merely staging a publicity ploy to draw attention to her upcoming musical project.
@Bahatiboi comedian wote, "Clout soon, you'll witness #the bahatis and showbiz nmewapa operating on the channel."
@Rammie ke wrote,"Simply put, if you want to release a song, this account should be ignored. Forget about the hacking story, we now understand the clout chase you guys are on."
@Rose.ombongi.98 wrote,"Ati ndo tuwatch song kesho tumekataa, we're not buying this kiki again."
Diana and her husband Bahati had deceived the public in the past by claiming to have ended their relationship in order to promote an upcoming song by then.
Getting Her Account Back
She only retrieved her account half an hour before midnight on January 26th. The YouTube crew has acknowledged that the account was hacked, and the hacker's identity will be revealed soon.
Screenshots from her Instagram account are included below.